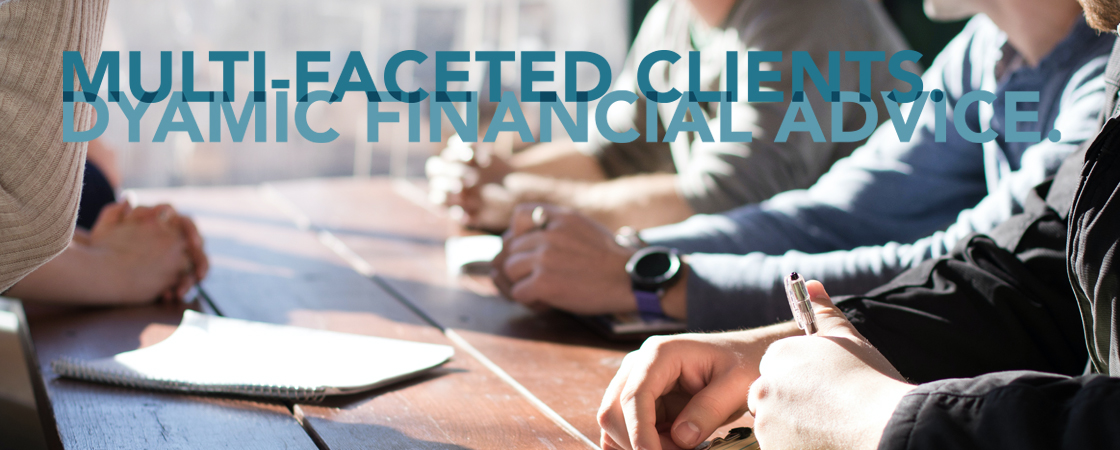 We don't just consider one aspect of who you are – we look at the big picture.
People are made up of ever-changing, moving parts and live in a world that's changing too. That's why we view these parts holistically and offer a range of services that look at your needs right now and in the future.
INVESTMENT PLANNING
Are you giving your wealth the best chance of growing?
Creating and preserving wealth isn't just about where your money is invested. We'll look at what investment risk is appropriate, your income and expenses, liquidity, tax needs, duration of the investment, and other confusing words that we will help make clearer, so that we can invest your money in a way that gets you the best return possible.
UNIT TRUSTS | TAX-FREE SAVINGS | DIRECT SHARES | ENDOWMENTS | AND MORE
PRE-RETIREMENT PLANNING
Will you be financially independent when you retire?
You don't want to live comfortably until retirement and then have to give it all up. During pre-retirement planning, we'll help you understand the income you'll need at retirement, based on your lifestyle, what you earn now, and what you could earn in the future. Then we'll invest what you need to enjoy the Golden Years.
RETIREMENT ANNUITIES | PRESERVATION FUNDS | PENSION FUNDS | PROVIDENT FUNDS | AND MORE
POST-RETIREMENT PLANNING
After retirement, where will your income come from?
Your investment is there to provide you and your dependants with an income, thanks to a combination of savings, the long-term growth of the investment, and the interest you could make off of it for years to come. We'll help you find the most tax-effective way to invest your money to make sure you've saved enough to live comfortably.
LIVING ANNUITY | GUARANTEED ANNUITIES | AND MORE
MEDICAL AID
Do you, and your family, have the health cover you need if something goes wrong?
Having a medical aid means that if something goes wrong, you know that your finances are taken care of. Medical aids offer a range of options, but not everyone can afford comprehensive cover, so a basic hospital plan is a great start. We'll help you find the most appropriate medical aid for your needs through our partnership with Discovery Health, Momentum Health and Fedhealth.
HOSPITAL PLANS | COMPREHENSIVE PLANS | MEDICAL SAVINGS | AND MORE
ESTATE PLANNING
Will your dependants live comfortably if you pass away? 
It's not nice to talk about, but it's important to plan for. During Estate Planning, we help calculate and plan around the financial impact on a family when the breadwinner is no longer with them. Life insurance, for example, is one of the most cost-effective ways to provide peace of mind.
INVESTMENTS | ASSURANCES | ASSETS | LIABILITIES | NEEDS PROVISIONS | AND MORE
RISK PLANNING
How will you and your family cope financially if you can't work anymore? 
It's horrible to think about, but dread disease, critical illness and disability are an unfortunate reality. We'll help you find the appropriate cover, which ensures that you and your family can still be financially stable if tragedy hits and a breadwinner can't earn an income.
LIFE COVER | INCOME PROTECTION | DISABILITY COVER | CRITICAL ILLNESS COVER | AND MORE
EMPLOYER & EMPLOYEE BENEFITS
How do you promote employee loyalty while protecting them and your business? 
The majority of the South African population can't afford to retire. Risk benefits and retirement savings are an increasingly important responsibility, as they ensure that your people are taken care of and that you contribute to South Africa's economic stability. We'll act as strategic advisors to your business to help navigate your obligations to staff and we'll consistently ensure that your contributions buy the best and most appropriate benefits.
PENSION FUND | PROVIDENT FUND | LIFE STAGES | LIFE COVER | INCOME PROTECTION | CAPITAL DISABILITY | DREAD DISEASE | AND MORE
"WE'RE SPECIALISTS IN OUR FIELD, BUT SOMETIMES CLIENTS NEED MORE. THAT'S WHERE OUR STRATEGIC PARTNERSHIPS COME IN."  
GUY GOLAN, Director.
© Portfolio Bureau (Pty) Ltd. is an Authorised Financial Services Provider